PMCF's View on the M&A Market
M&A volume for Global Plastics recorded another strong month in April 2021 with 36 transactions and is on record pace for the year with 137 transactions. All sectors are higher than last year through April 2021 with Injection Molding, Film and Sheet & Thermoforming subsectors posting substantial increases. We found it particularly interesting that Injection Molding has already made up all of last year's decline in the first four months of the year. Private equity buyers accounted for 48% of the transactions for the month and 50% on a year-to-date basis, which is significantly higher than the historical average of ~43%. Private equity transactions in the plastics industry are on track to exceed pre-COVID levels by over 34% which we believe is partly attributable to pent up demand from the COVID slowdown in the middle of 2020.
Global Packaging M&A activity also registered a strong month with 29 transactions and is on pace to exceed pre-COVID levels by 17%. Plastic packaging transactions made up most of the increased activity for the year with flexible packaging transactions reporting almost 3 times last year's volume through April 2021. Paper packaging experienced particularly high levels of transaction activity for the month with 15 deals which puts the subsector up 34% for the year after being flat through March 2021. Private equity's share of transactions also increased in packaging and is now over 50% on a year-to-date basis compared to ~40% during the 3 years prior to COVID.
The continuation of high transaction volume in April 2021 coupled with feedback we've been receiving from buyers and sellers of plastics and packaging companies would indicate that we have moved from COVID recovery to the possibility of record transaction levels for the year. While private equity has been a major contributor, we also noticed a significant uptick in cross border activity which we will be covering in our midyear M&A reports. We can also confirm a flurry of deal activity stemming from concerns over the potential change in capital gains rates from the Biden-Harris Administration.
If you are a plastics or packaging company considering a merger, acquisition, sale or recapitalization in the short or longer term, please consider leveraging PMCF's transaction planning and execution expertise to best position your company in a transaction.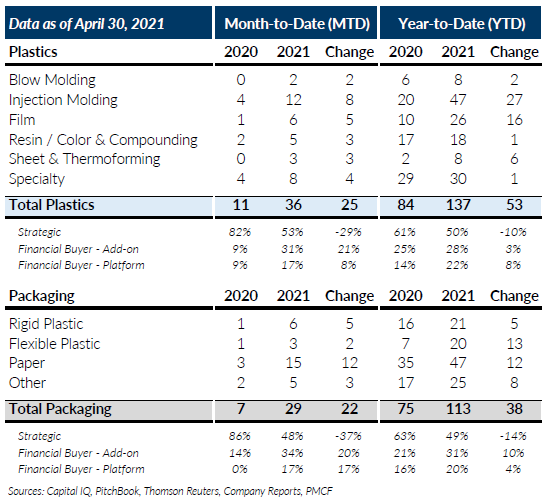 Notable M&A Activity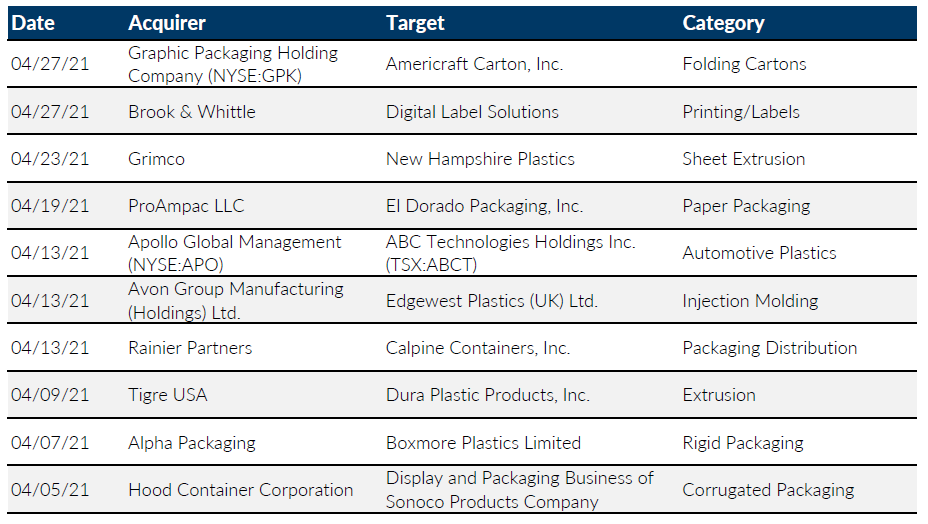 Public Entity Performance

Major News in Plastics & Packaging