PMCF Industry M&A Activity Tracking
Global Plastics & Packaging transaction activity experienced further recovery from COVID in August 2020 with both sectors reporting modest increases in activity over July levels.
Global Plastics M&A recorded 26 transactions which was higher than last month by 2 transactions but still behind last year's YTD total by 6 transactions. Injection Molding was the most active subsector in August, representing more than 40% of plastics transaction activity for the month with notable transactions involving both medical and industrial molders. Resin, Color & Compounding also had another strong month and continues to outperform last year by a meaningful margin. Transactions involving a buyer with a strategic angle (strategic and private equity add-on) continue to represent the majority of plastics transactions with the number of transactions in these buyer categories tracking similar to last year for the month of August. Private equity platforms continue to lag last year which is likely due to the reliance upon bank financing and shorter-term financial results to meet sellers' valuation expectations.
Global Packaging M&A reported its first monthly increase over last year since March 2020 with 19 transactions compared to 18 transactions in August 2019. Distribution across the subsectors was similar to last year and Paper continues to be the strongest performing subsector on a year-to-date basis. Other packaging (which includes machinery/equipment, metal, distribution, and glass packaging) had a particularly strong month driven by 3 notable packaging distribution transactions. The buyer makeup for packaging was heavily weighted towards strategic buyers which increased by 5 transactions, or 50% for the month. Private equity add-ons declined by 2 transactions and there were no recorded private equity platform transactions for the month, which is highly unusual even in this COVID environment.
Overall, the environment for plastics and packaging M&A continues to improve but is still not fully recovered from COVID. We don't expect full recovery for quite some time but have been encouraged by the level of activity over the last few months and the notable transactions. Multiples being paid for high quality plastics and packaging businesses continue to be strong based on the transactions we've seen with the COVID impact on the business being a critical factor. If you are a plastics and packaging company considering a sale or recapitalization in the short or longer term, please consider leveraging PMCF's transaction planning and execution expertise to best position your company for a transaction.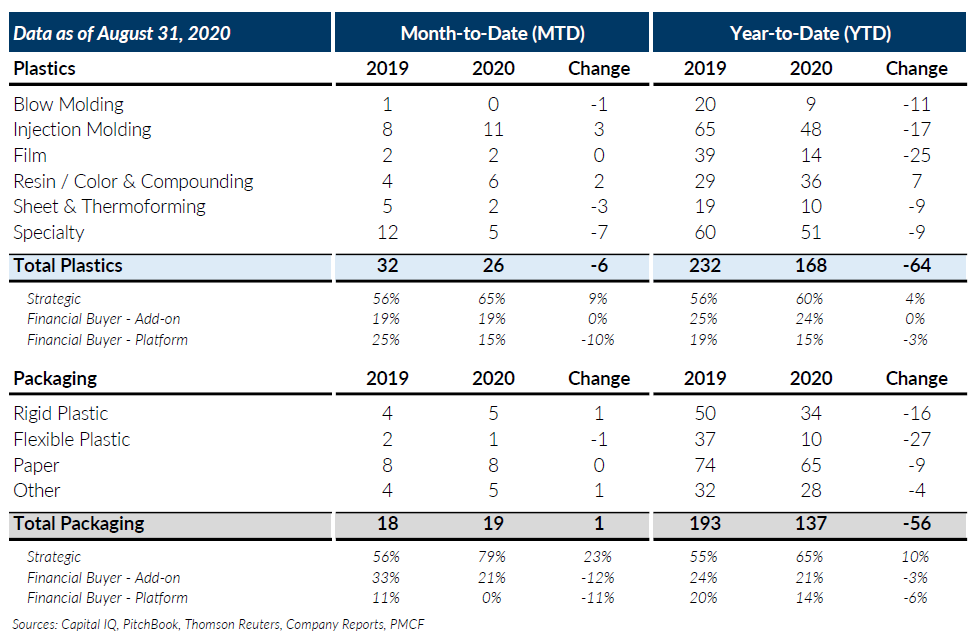 Notable M&A Activity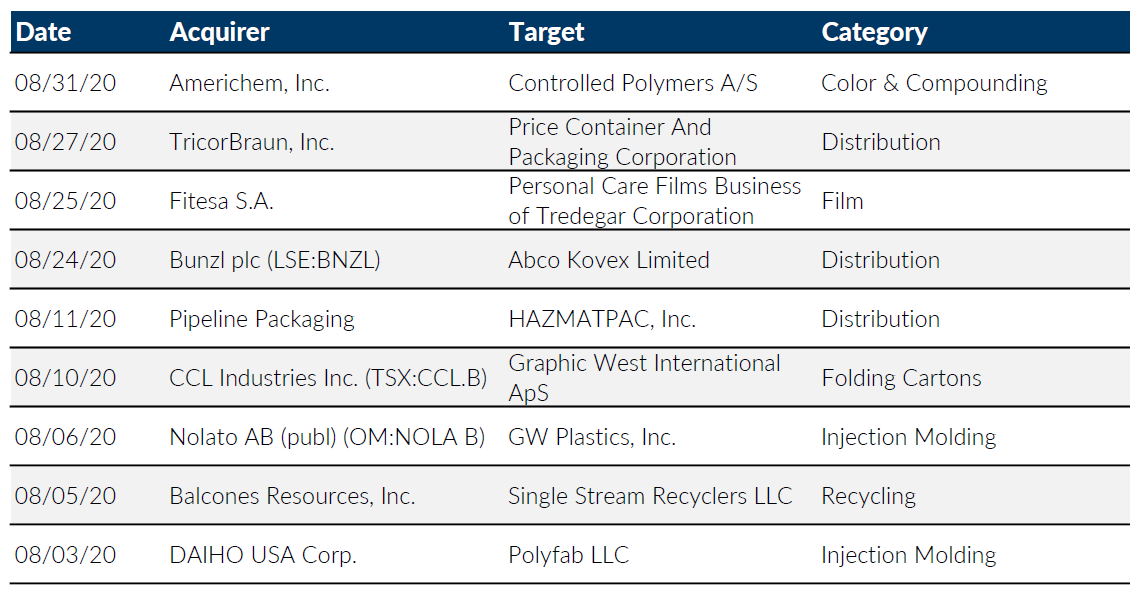 Public Entity Performance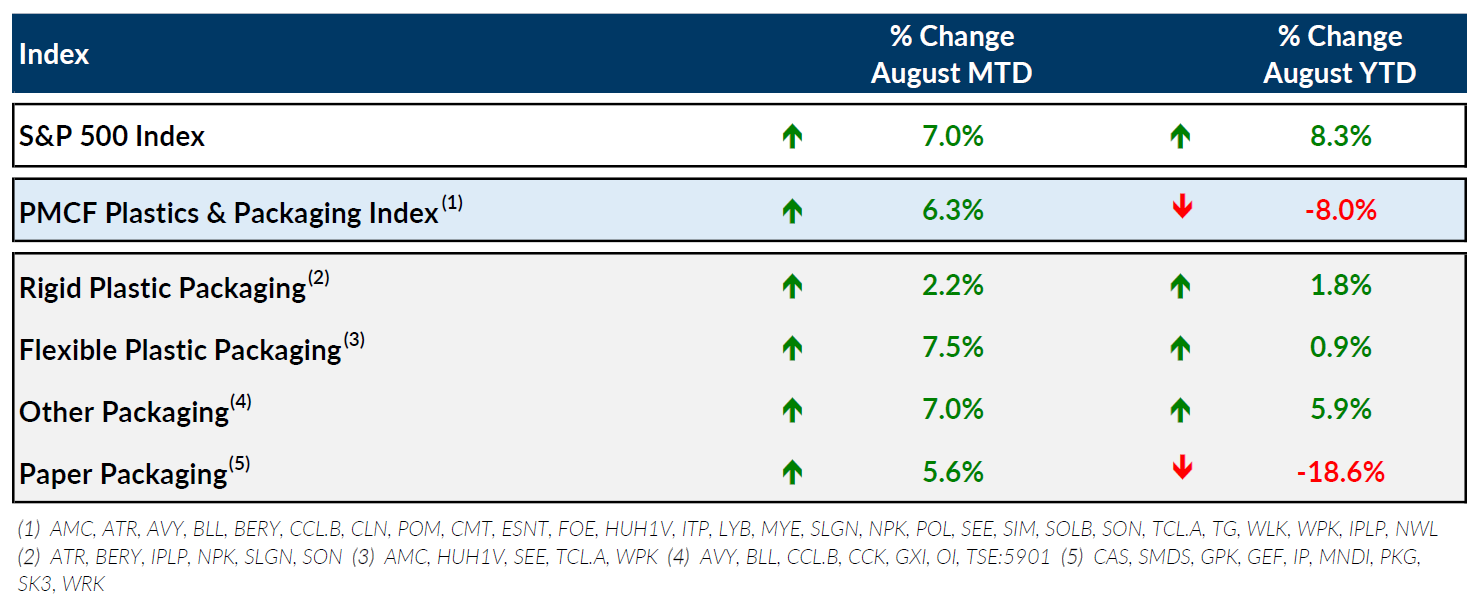 Major News in Plastics & Packaging
Fastmarkets RISI: Pactiv Evergreen Inc. (currently Reynolds Group Holdings) files for proposed IPO
Plastics News: Commodity resin prices up in August, hurricane impact unclear for September
Packaging Digest: Flexible Packaging Delivers in the Ecommerce Era
The Guardian: 'It's all on hold': how Covid-19 derailed the fight against plastic waste