PMCF Industry M&A Activity Tracking
Global Plastics M&A finished the year strong with record transaction volume for the month of December as many buyers and sellers worked to close transactions before the turn of the calendar year. With 37 deals recorded during the month, December increased by 11 deals (or 42%) over last year which has typically been a strong month for M&A historically. After a period of suppressed transaction volume, Film experienced the largest monthly increase due to large number of flexible packaging transaction closings reported for the month. The remaining subsectors all had strong volume but only two remain positive for the full year 2020 compared to last year. Buyer makeup continued to favor strategic buyers which represented more than 60% of the transactions for the month.
Global Packaging M&A also experienced high transaction activity in December, recording 38 deals, a monthly level we have not seen since 2015. All Packaging sub-sectors were up for the month, led by transactions in the Flexible Plastic and Other sub-sectors. All of the Packaging subsectors finished the year lower than 2019 with Paper and Other showing the most resiliency in a COVID impacted year. While financial buyers experienced a faster decline in volume at the onset of the pandemic, we have seen an uptick in volume in the second half of 2020 with many marquee packaging platform transactions completed. On a full-year basis, the total buyer mix was relatively unchanged from 2019.
Transaction multiples remain strong across many of the Plastics and Packaging subsectors which should continue to motivate shareholders to explore transactions. High quality, well-performing plastics and packaging business are primed to take advantage of what continues to be a seller's market.
Looking back at the past year, 2020 was a year of unprecedented challenges, intensifying political division, and many hardships resulting from the COVID pandemic. However, even in the face of these great challenges, the Plastics and Packaging industries found a way to move forward, with many companies thriving, and the M&A markets recovering relatively quickly. As we begin 2021, we are cautiously optimistic that Plastics and Packaging M&A volume will continue the momentum from the second half of 2020 and be strong for the first half of 2021.
If you are a plastics or packaging company considering a merger, acquisition, sale or recapitalization in the short or longer term, please consider leveraging PMCF's transaction planning and execution expertise to best position your company in a transaction.
Our research on Plastics & Packaging M&A activity was recently published on the front page of the Plastics News. Please check out the article here.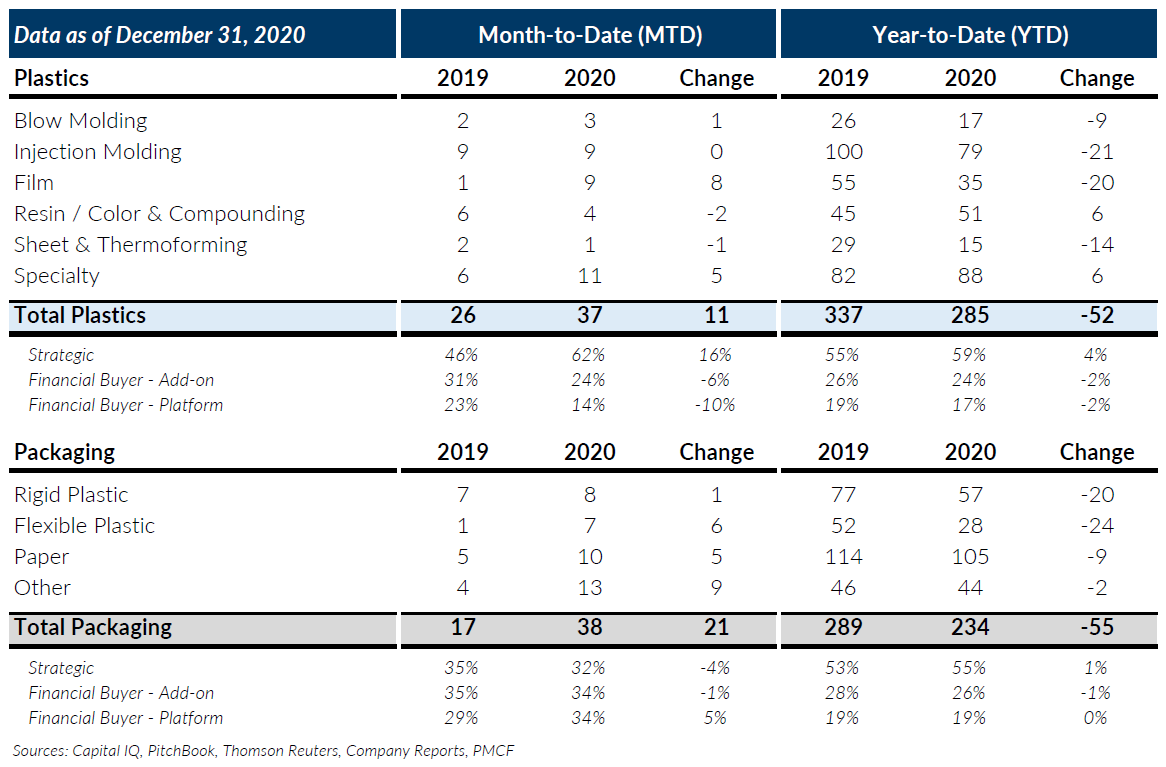 Notable M&A Activity

Public Entity Performance

Major News in Plastics & Packaging