PMCF Industry M&A Activity Tracking
Plastics & Packaging M&A has started the year with high levels of activity, continuing the strong momentum we saw in Q4 2020. Check out PMCF's Plastics & Packaging year end reports for 2020 that were recently published to get a more in-depth discussion on last year's M&A activity.
M&A volume for Global Plastics recorded 28 transactions in February 2021, a 12% increase over last year. Year-to-date Global Plastics M&A has experienced a 33% increase over last year primarily led by increases in Injection Molding and Film activity, while Blow Molding and Resin / Color & Compounding transactions have remained flat. New platform investments by financial sponsors increased by 21% as a percentage of total deals over last year which is an encouraging sign for continued interest in the sector moving forward.
Global Packaging M&A activity in February 2021 remained relatively consistent at 25 deals which represents a 4% increase year-over-year. Sector mix shifted due to an increase in Rigid and Flexible Plastic which was offset by a decline in Paper transactions. Private equity deals involving both add-on and platform transactions increased by 15% as a percentage of total mix. On a year-to-date basis, total Global Packaging M&A activity is flat, which is consistent with high levels of activity seen in Q1 2020 prior to the onset of the COVID-19 pandemic.
At PMCF we continue to remain encouraged by the resiliency of Plastics & Packaging M&A and are cautiously optimistic on the outlook for 2021. Based on the deals we've seen or been involved with recently, transaction multiples are comparable to pre-COVID levels in most sectors within plastics and packaging. The fact that we are approaching pre-COVID levels of M&A activity is a clear indicator that buyers and management teams are increasingly more comfortable negotiating and closing transactions in the current environment. We expect that the continued roll-out of COVID-19 vaccinations will have a positive impact and further bolster appetite for M&A as macroeconomic conditions improve. Uncertainty regarding the timing and nature of the Biden-Harris Administration's tax proposals could also lead to more sellers exploring a transaction in the short-term.
​​​​​​​
If you are a plastics or packaging company considering a merger, acquisition, sale or recapitalization in the short or longer term, please consider leveraging PMCF's transaction planning and execution expertise to best position your company in a transaction.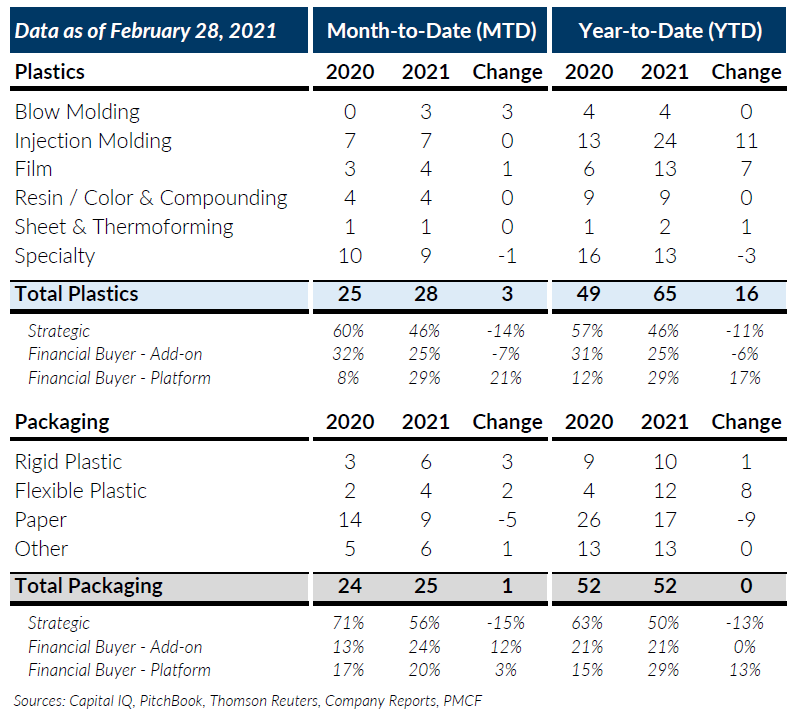 Notable M&A Activity

Public Entity Performance

Major News in Plastics & Packaging