PMCF Industry M&A Activity Tracking
M&A volume for Global Plastics got off to a quick start in 2021 as 37 transactions were recorded in the month of January (54% increase year-over-year). Both private equity and strategic transactions increased year-over-year and continued the elevated activity levels observed in Q4 2020. On a sector basis, Injection Molding and Film transactions accounted for a majority of the increase, as both sectors went up 11 and 6 deals, respectively. Approximately 54% of Global Plastics deals in January 2021 were domestic transactions, a 17% increase year-over-year as a percentage of total mix.
Global Packaging M&A activity in January 2021 remained elevated at 29 announced or closed transactions. The activity levels observed for private equity platform transactions was notable as they increased by 6 deals year-over-year, offset by declines of 4 and 3 deals for strategic and private equity add-on transactions, respectively. Flexible Packaging transactions also increased by 6 deals year-over-year, offset by minor declines in Rigid, Paper, and Other Packaging.
The impressive performance of the Plastics & Packaging M&A markets in January 2021 is a very encouraging indicator that both buyers and sellers are becoming increasingly comfortable executing transactions despite COVID-related challenges. Virtual platforms have allowed both parties to meaningfully engage in order to run diligence processes, perform negotiations, conduct integration planning and ultimately close transactions. We believe that one reason for the recent spike in deal activity is a resurgence in transactions that slowed down or were paused at the onset of the pandemic. While we can't confidently say that the impact of COVID on Plastics & Packaging M&A is over, we are encouraged by how resilient the plastics industry has been and remain cautiously optimistic heading into 2021.
If you are a plastics or packaging company considering a merger, acquisition, sale or recapitalization in the short or longer term, please consider leveraging PMCF's transaction planning and execution expertise to best position your company in a transaction.
Please check out PMCF's recently published Plastics & Packaging 2020 year end reports to get a more in-depth discussion on last year's M&A activity.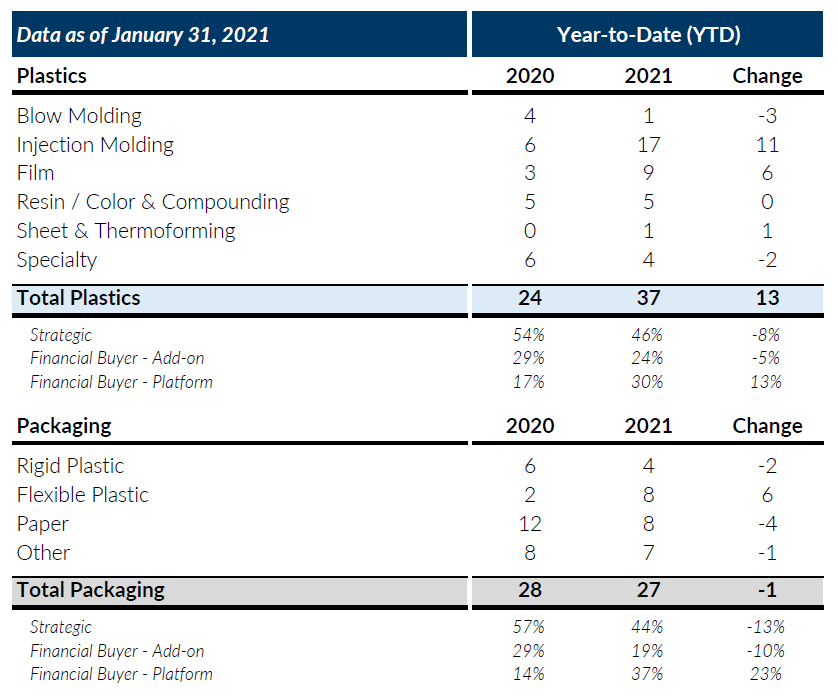 Notable M&A Activity

Public Entity Performance

Major News in Plastics & Packaging