Global Plastics & Packaging had another good month in July 2020 given the challenges that continue to persist with COVID-19. Plastics M&A recorded 24 transactions which was lower by 7 deals compared to a peak month last year but much higher than the 6 – 11 deals reported in the months of April and May 2020. Resin / Color & Compounding had a strong month with 7 transactions which was more than double the amount recorded last year in July – this is the only sector that is up on a year-to-date basis. Specialty also continues to experience consistent deal activity despite COVID and is tracking within 4% of last year's total recorded transactions. The other sectors are down between 35% – 68% on a year-to-date basis but we have still seen several high quality and notable transactions in these sectors. The buyer makeup in plastics continues to favor strategic and private equity add-on transactions which appear to be easier to close at acceptable valuations than platforms in this COVID environment.
Global Packaging M&A recorded 17 transactions for the month which was higher than last month by 4 deals but lower than July of last year by 6 deals. Packaging transaction activity has been slower to recover than Plastics over the last two months which we believe is attributable to a higher number of transactions that are currently on hold or were delayed for a longer time period. Packaging tends to be highly sought after by private equity for platform transactions and the financing markets continued to be sub-optimal in July which is likely one contributing factor. From a sector standpoint, Paper had a strong month exceeding last July's transaction closings and is only down 13.6% on a year-to-date basis (total Packaging is down 32%). Rigid Plastic has also seen a nice uptick in activity over the last two months and is within 1 transaction of last year's volume for these months. The buyer makeup in packaging is similar to plastics with strategic and private add-on transactions increasing as a percentage of total transaction activity. We did however, see higher private equity transaction activity and more platform transactions close in July compared to the last three months which was encouraging.
While these are challenging and unprecedented times for plastics and packaging M&A, there remains opportunities for both buyers and sellers to close successful transactions or best position themselves for a future transaction in the short or longer term.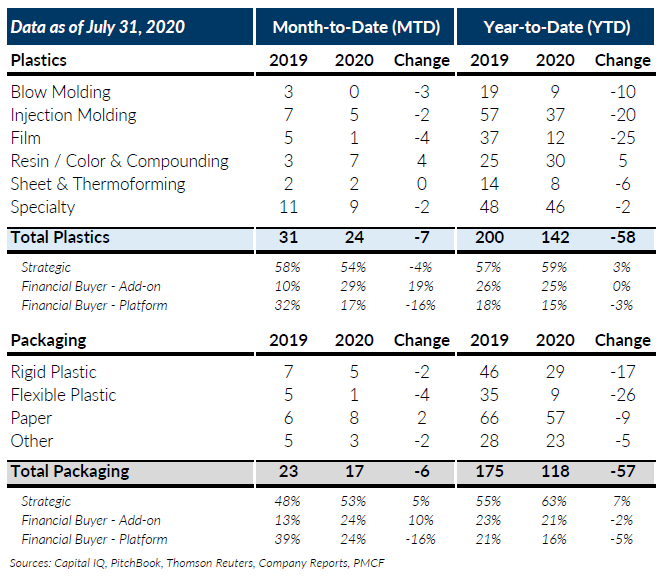 NOTABLE M&A ACTIVITY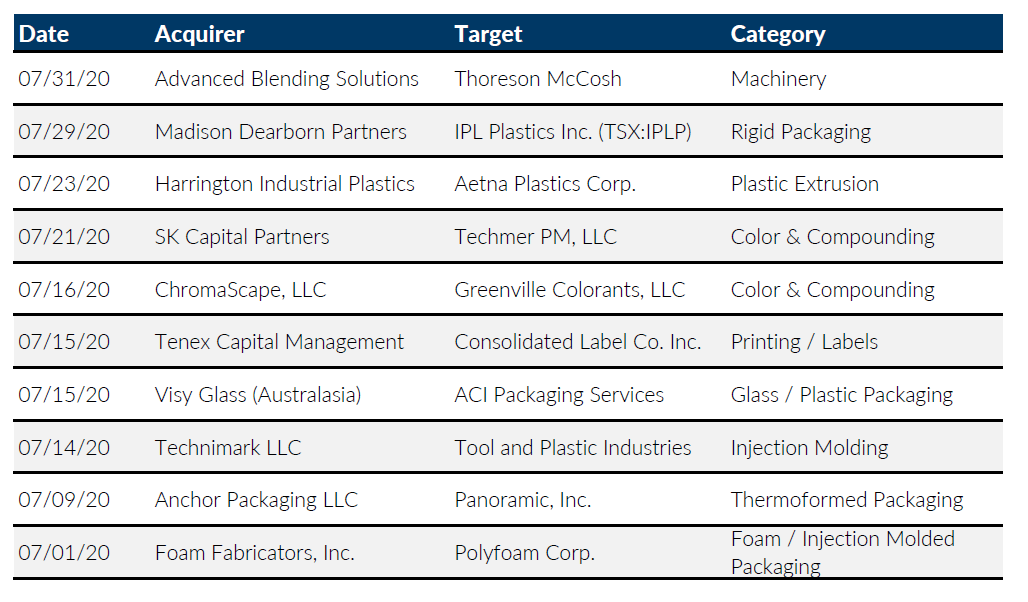 Major News in Plastics & Packaging
COVID-19 has resurrected single-use plastics – are they back to stay?
The Conversation
Read More
A Deeper Dive Into PFAS, and Why Bans Are Misguided
Packaging Digest
Read More
PPE makers still focused on meeting COVID-19 demands
Plastics News
Read More
Pew report pushes limiting plastics growth to cut ocean pollution
Plastics News
Read More
PUBLIC ENTITY PERFORMANCE