PMCF's View on the M&A Market
For June 2021, M&A volume for Global Plastics repeated last month's record volume with 40 transactions, exceeding last year's total by 12 transactions, or 43%. Transactions for the month were led by private equity add-ons which accounted for 35% of the volume. Overall, private equity transactions in plastics are up significantly over last year and are a major contributor to the record pace of plastics M&A transactions completed in the first half of the year.
Film, which includes flexible packaging, continued its strong rebound of transaction activity, recording 9 transactions for the month and 41 transactions for the first half of the year. This subsector was down prior to COVID and didn't start its recovery until late 2020. All other subsectors are reporting increases over last year through June 2020 with Injection Molding leading the way with growth of 35 transactions.
Global Packaging M&A activity recorded its highest month of the year with 36 transactions, almost 3x last year's levels and 33% higher than May 2021. Paper packaging led all packaging subsectors through June with 13 transactions and continues to be the most active subsector with 75 transactions though the first half of 2021. Plastic packaging volume has also been strong due primarily to high levels of flexible packaging transaction activity, which accounted for over 50% of the plastic packaging transactions for the year. Private equity has also been highly active in packaging with add-on transactions matching strategic buyers deal closings in June 2021. For the first half of the year, private equity has increased its share of packaging transaction closings from 36% to 51%.
Overall, another strong month of M&A activity for both the Plastics and Packaging sectors. Given the level of M&A activity currently in process, we expect monthly transaction levels to remain high through the remainder of 2021. If you are a plastics or packaging company considering a merger, acquisition, sale or recapitalization in the short or longer term, please consider leveraging PMCF's transaction planning and execution expertise to best position your company in a transaction.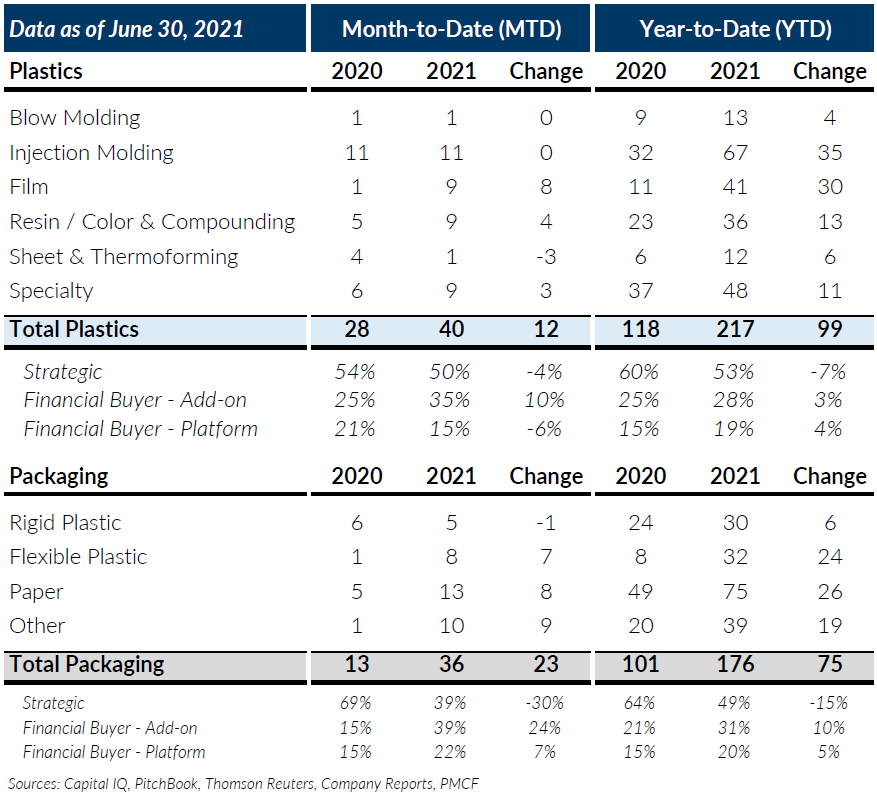 Notable M&A Activity

Public Entity Performance

Major News in Plastics & Packaging