PMCF Industry M&A Activity Tracking
M&A volume for Global Plastics recorded 36 transactions in March 2021, a 50% increase over last year and not far off from the monthly peak for the sector. Strategic and private equity add-on buyers accounted for all the growth in transaction activity for the month while private equity platform transactions were equal to last year.
On a year-to-date basis, Global Plastics transactions are up 38% over last year and on track to exceed pre-COVID activity levels for the year. The total volume of 101 transactions for the first three months represents the highest level of quarterly activity recorded in the past six years. Most Global Plastics subsectors reported increases for year, but the outlier was Injection Molding, which has more than double the transaction volume compared to last year.
Global Packaging M&A activity also had a strong month, recording double the transaction volume compared to 2020 and the highest level of monthly activity so far this year. Transactions in the Flexible Plastic subsector are driving most of the growth on a year-to-date basis, rebounding from depressed levels experienced for the majority of 2020. Similar to Global Plastics, strategic and private equity add-on buyers were responsible for the majority of the growth in the sector during March while private equity increased its overall share of transaction volume from 40% to 50% on a year-to-date basis.
March's robust transaction volume and the results for the first quarter 2021 confirmed for us that M&A activity in both Plastics and Packaging sectors has recovered from the impact of COVID-19. We are not sure how the full year will end up but the current momentum in the M&A markets would signal the continuation of high levels of activity. In addition to strong M&A fundamentals, the potential for a significant change in capital gains taxes from the Biden-Harris Administration is prompting sellers to pursue a transaction sooner than they might of otherwise.
If you are a plastics or packaging company considering a merger, acquisition, sale or recapitalization in the short or longer term, please consider leveraging PMCF's transaction planning and execution expertise to best position your company in a transaction.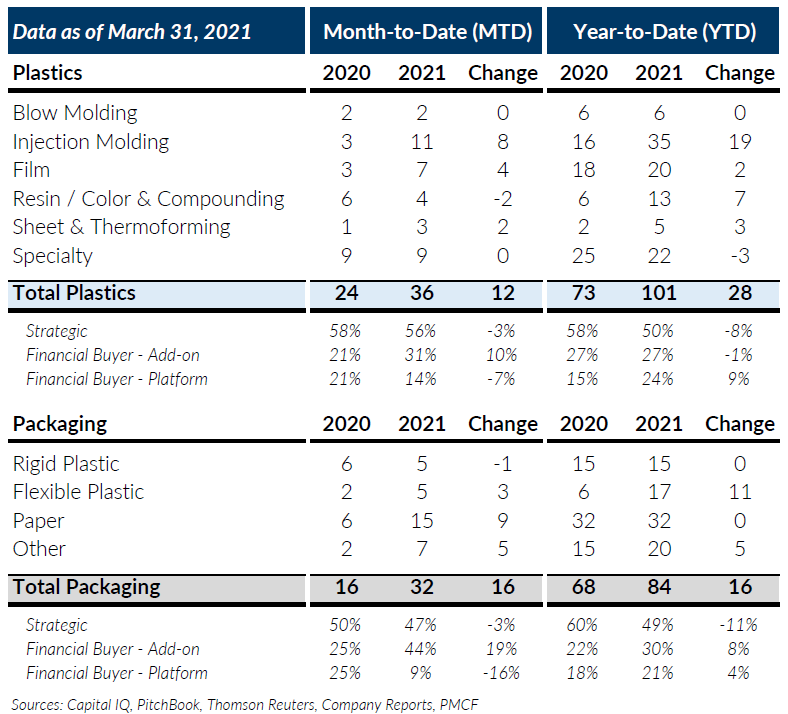 Notable M&A Activity

Public Entity Performance

Major News in Plastics & Packaging