PMCF's View on the M&A Market
Plastics and Packaging M&A volume remained at very low levels for May 2020 as a result of the significant impact of COVID-19 on the global economy and the M&A markets. Plastics reported only 6 transactions for the month compared to 24 last year and 11 in April. Packaging reported 13 transactions which was almost double last month but still much lower than last year's total of 21 transactions. Transaction activity in both sectors is now down ~36% for the year primarily as a result of the low levels of activity over the last two and half months, which all appear to be attributable to the COVID-19 pandemic.
Strategic buyers continued to represent most of the transaction activity in May, accounting for ~80% of the plastics transactions and ~70% of packaging transactions. Private equity has been active on the business development front but largely nonexistent with transaction closings in plastics and packaging – only 1 private equity platform transaction was reported for the month of May which matched last month's activity. The credit markets have made it very challenging for private equity groups to close platform transactions at competitive valuations. Private equity add-on transactions have fared a little better but are still lower as a percentage of total transactions. Some of these add-on transactions are being funded out of existing credit facilities and there is typically a strong strategic angle, making it less reliant on new financing to achieve a successful closing.
The stock market continued to report increases in May, following a rather significant rebound in April. PMCF's Plastics & Packaging Index increased by 6% which surpassed the gains realized by the S&P 500 for the month. All subsectors posted increases in May, but Paper Packaging and Flexible Packaging subsectors continue to lag the S&P 500 by a material amount, bringing down the overall index on a year-to-date basis. The stock market is often utilized as a leading indicator for the M&A markets and overall economy which is hopefully a good sign for a faster recovery over the balance of the year.
While these are challenging and unprecedented times for plastics and packaging M&A, there remains opportunities for both buyers and sellers to close successful transactions or best position themselves for a future transaction in the short or longer term.
For potential sellers of plastics and packaging companies, we encourage you to check out our recently published Post COVID-19 Succession Playbook for planning considerations here.
PMCF Industry M&A Activity Tracking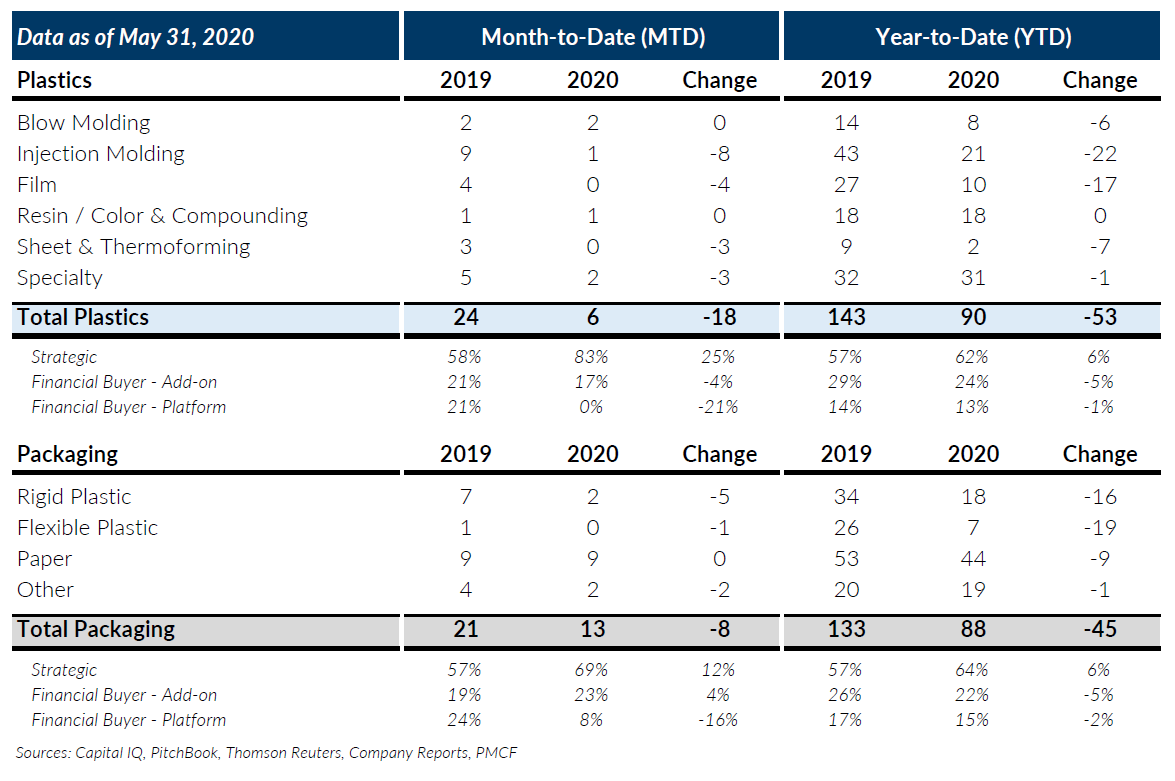 Notable M&A Activity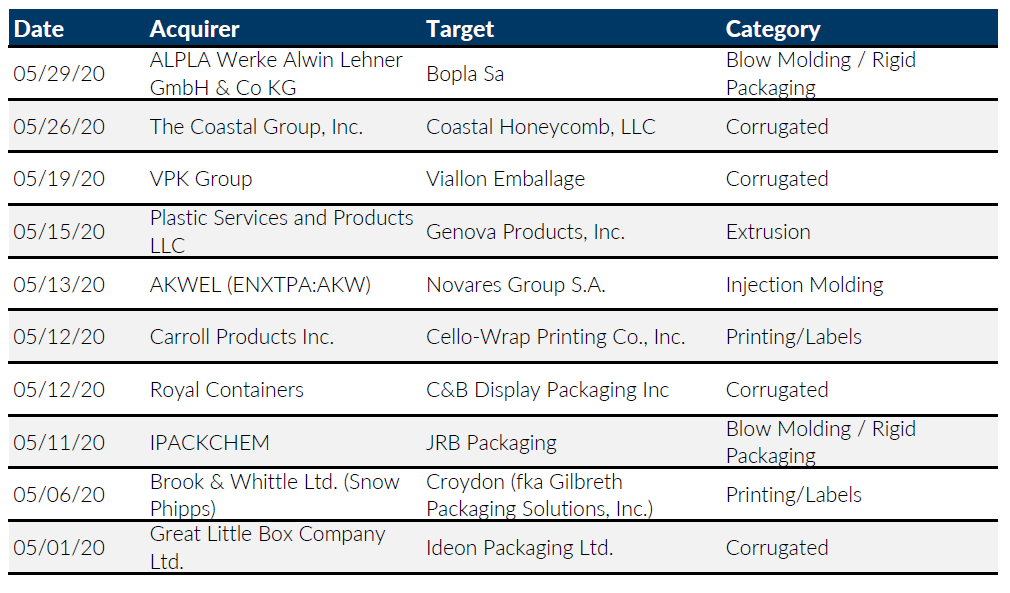 Major News in Plastics & Packaging
Plastics News
The US economy will restart, but how fast?
Wall Street Journal
U.S. Economy Faces Long Recovery From Coronavirus Effects, Experts Say
Fastmarkets RISI
US boxboard prices unchanged in May with traction in recycled increases amid Covid-19 demand surge
Plastics News
Falling demand in the driver's seat for PVC, PS, PC, nylon and ABS prices
Public Entity Performance