PMCF Industry M&A Activity Tracking
Global Plastics M&A experienced further recovery from COVID in September 2020 with 29 transactions, a modest increase over last month but still lagging last year by 2 transactions.  Despite the year-over-year decline, September transaction activity represents the highest level of reported transactions for 2020 which is a positive indicator for Plastics M&A in the near term.  The Specialty sub sector including extrusion, foam, composites, and rotomolding led the way reporting nearly double the number of transactions compared to last year.  Film also had a strong month after being one of the lowest performing subsectors of 2020.  Buyer makeup for September was similar to last year overall but had a slight uptick in private equity platform transactions which is the first increase we've seen in several months.
Global Packaging M&A also reported increased activity levels with September representing the highest level of transaction activity since COVID started impacting M&A in March 2020.  Reported transactions were higher than last month by 21% but substantially lower than last year's abnormally high transaction levels.  From a sub sector standpoint, Paper Packaging reported the highest number of transactions for the month and continues to be the most resilient through the COVID pandemic.  Rigid Plastic reported a modest increase over last month and has been showing consistent recovery over the last few months.  Flexible Plastic had its best month of 2020, but it is unclear as to whether or not this is the start of a positive trend given the low levels of activity reported since the beginning of 2020.  We saw a notable shift in buyer makeup in packaging for September with an increase in private equity platforms and overall private equity representing the majority of total transactions, something we have not seen since COVID began.
Overall, we continue to be encouraged by the level of transaction activity in both plastics and packaging and the pace of COVID recovery.  September reported high-water marks for both plastics and packaging M&A, and we were pleased to see private equity platform activity report increases over prior months.  We expect to see similar levels of transaction activity in both sectors for Q4 2020 based on the current pipeline of deals in the market and feedback we've received from many of the top consolidators.  The timing of a full recovery of M&A from COVID is still uncertain but we believe the resilience of EBITDA multiples for high quality plastics and packaging businesses will continue to be helpful.
If you are a plastics and packaging company considering a merger, acquisition, sale or recapitalization in the short or longer term, please consider leveraging PMCF's transaction planning and execution expertise to best position your company in a transaction.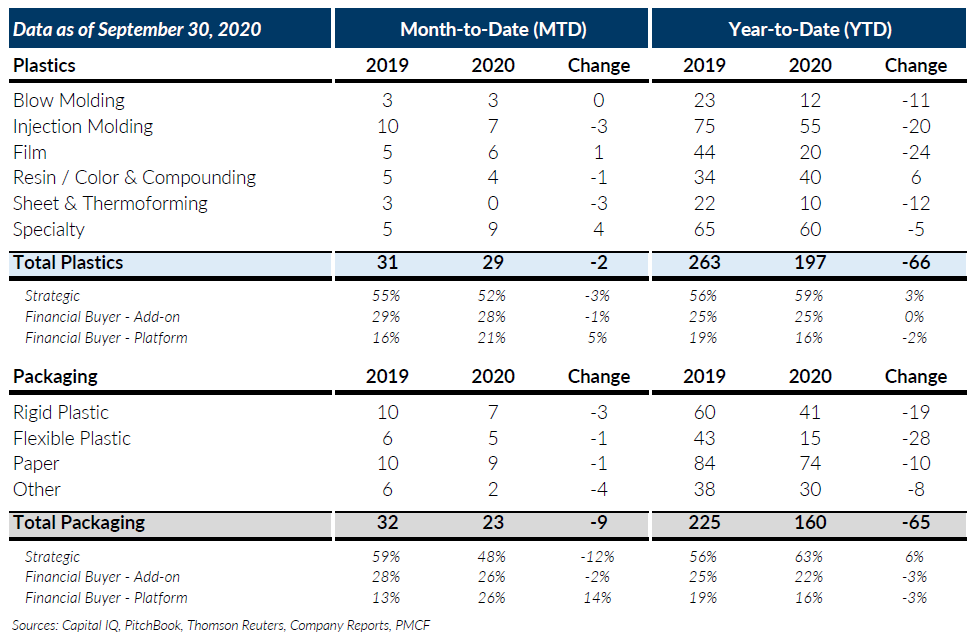 Notable M&A Activity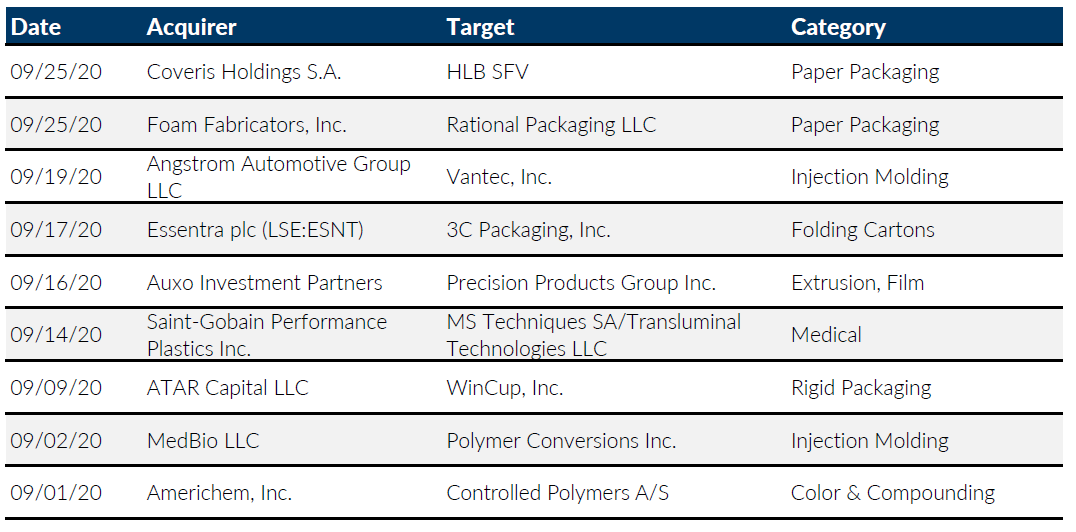 Public Entity Performance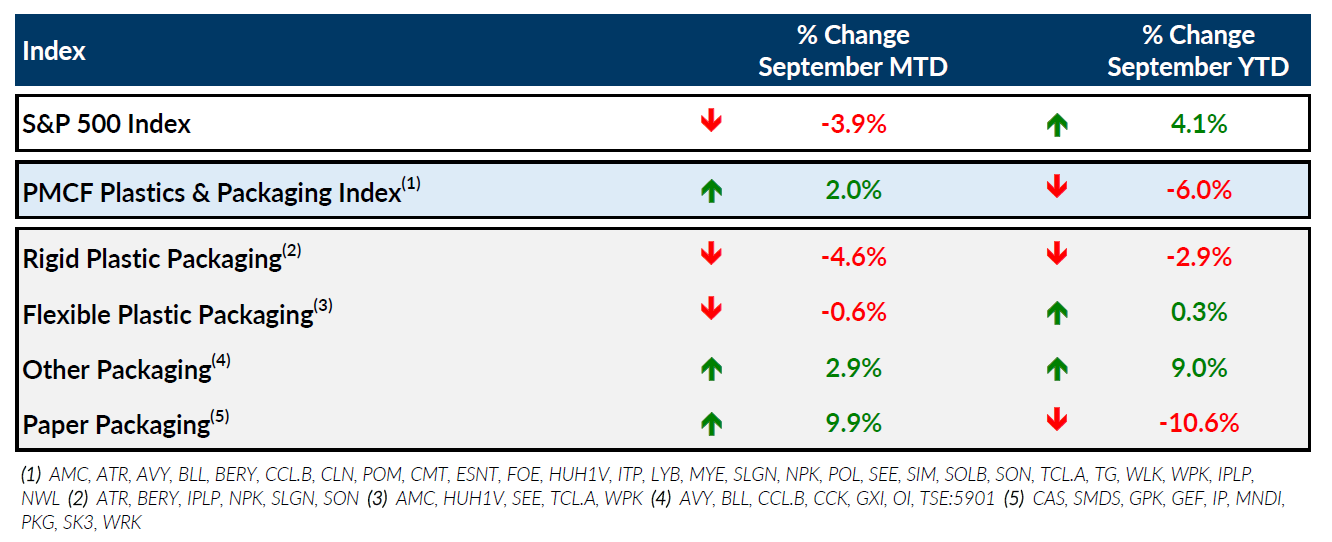 Major News in Plastics & Packaging