PMCF's View on the M&A Market
M&A volume for Global Plastics recorded yet another peak month in May 2021 with 40 transactions, exceeding last month's high-water mark by 4 transactions. Strategic buyer activity was a key driver, increasing by over 35% and taking share from private equity add on buyers (which were lower by 27% for the month). Platform private equity buyers, on the other hand, remained strong with the same number of transactions as last month, and now represents a higher percentage of overall plastics transactions than pre- COVID levels experienced in 2019.
Most of the Global Plastics subsectors reported increases in the number of transactions compared to last month except for Injection Molding and Thermoforming, which were down by 3 transactions and 1 transaction, respectively. Despite fewer transactions, Injection Molding is still reporting higher transaction levels than its 5-year peak monthly run rate. On a year-to-date basis, Global Plastics M&A overall has set a record number of transactions and if the pace continues, will well exceed the annual peak level since PMCF began tracking Plastics M&A activity in 2005.
Global Packaging M&A activity also registered a strong month with 27 transactions, 2 less transactions than last month but on par with the monthly run rate for the year. From a subsector standpoint, Flexible Plastic packaging increased by 1 transaction over last month and the total volume year-to-date has nearly exceeded the full year 2020. Paper packaging remained consistent with last month and is on a record pace for the year. Rigid Plastics and Other are both trending favorably but did experience slight declines compared to last month. Similar to Global Plastics buyer make up, strategic buyer activity increased significantly for the month, all at the expense of private equity add-on buyers. Platform private equity has recovered from last year and is trending to be consistent with pre- COVID levels.
Overall, May 2021 transaction activity in both Plastics and Packaging was a continuation of a strong M&A trend we've been seeing since late last year. Contributing factors from PMCF's perspective include carryover transactions that were delayed by COVID, continuation of strong "Seller's Market" conditions (including higher transaction multiples), robust buyer demand from industry consolidators and private equity groups, and sellers trying to complete a transaction before a potential change in capital gains tax.
If you are a plastics or packaging company considering a merger, acquisition, sale or recapitalization in the short or longer term, please consider leveraging PMCF's transaction planning and execution expertise to best position your company in a transaction.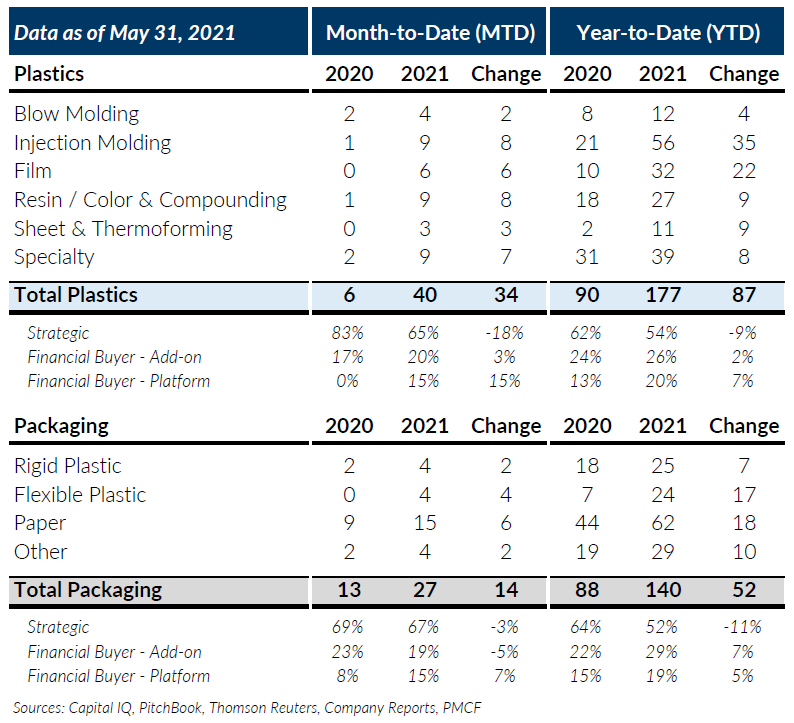 Notable M&A Activity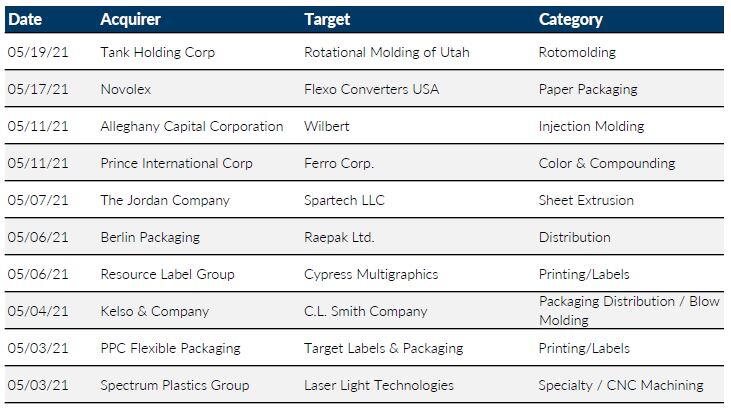 Public Entity Performance

Major News in Plastics & Packaging