PMCF Industry M&A Activity Tracking
Strong momentum continued for Global Plastics M&A in November with total transaction activity reaching peak levels for 2020 on a monthly basis and exceeding last year by 12%. Most sub-sectors were up for the month with the exception of Film and Sheet & Thermoforming, which have been lagging most of the year. The Specialty sub-sector had a particularly strong month and is now above last year's totals through November. Resin / Color & Compounding continue to report transactions at or above last year and the sub sector is now up ~20% on a year-to-date basis. From a buyer makeup perspective, strategic buyer activity was up for the month driven primarily by privately held acquirers which recorded twice as many transactions as last year. Private equity volume was flat with last year but it was encouraging to see an uptick in platform acquisitions.
On the other hand, Global Packaging M&A in November was down significantly compared to last year and flat compared to last month. Rigid and Flexible Plastic subsectors were comparable to last year but Paper was lower by nearly 50%. Paper had been outperforming the other sub-sectors on a year-to-date basis and the difference in November could simply be a timing issue. Regardless, the number of transactions in Global Packaging are lower overall and have not rebounded to the same level as Global Plastics. We believe some of this is the result of a supply/demand imbalance where there are more buyers than available sellers.
Based on the deals we've seen or been involved with, transaction multiples for the last few months have been comparable to pre-COVID levels for high quality, well-performing businesses in several sectors within plastics and packaging. This was confirmed within our recent 3rd quarter 2020 report for Global Packaging which reported an average EBITDA multiple of 9.2x for select global packaging M&A transactions. This was close to last year's average of 9.5x and not a large enough change to draw any negative conclusions, given there is variability based on end market / sector mix and only select transactions are included.
We want to wish all our contacts a Merry Christmas and Happy New Year. We are looking forward to putting 2020 in the rear-view mirror and moving into 2021 with positive momentum in plastics and packaging M&A. If you are a plastics and packaging company considering a merger, acquisition, sale or recapitalization in the short or longer term, please consider leveraging PMCF's transaction planning and execution expertise to best position your company in a transaction.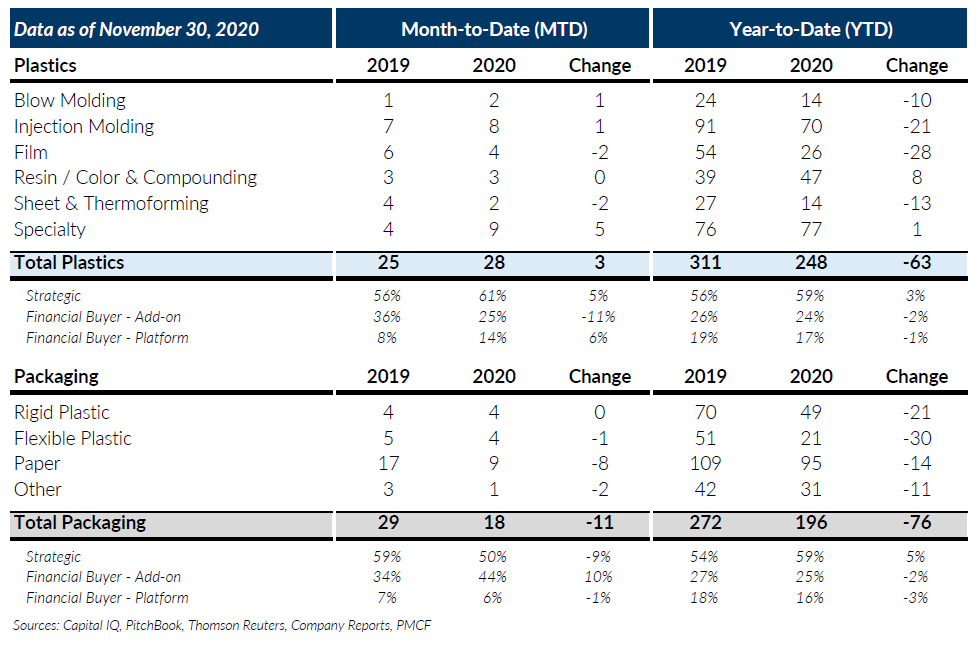 Notable M&A Activity

Public Entity Performance

Major News in Plastics & Packaging